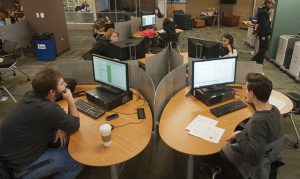 Things to Read
Hardenbrook, J. (2019). Starting a Food Pantry in an Academic Library.
Mathews, Brian. (2017) Cultivating Complexity.
Basgen, B. & Testori, P. (2016). Socially engaged learning.
Catalano, Glasser, Caniano, W.,  Caniano, L., & Paretta (2018). Evidence Based Library and Information Practice.
Deitering, A. & Gascho Rempel, H. (2017). Sparking curiosity.
Fister, B. (2016). Reframing libraries.
Lauersen, C. (2016). Towards rubicon: The academic library and the importance of making a choice.
Kenney, A. and Li, X. (2016). Rethinking Research in the Era of Global Universities.
Mathews, B. (2015). The Evolving & Expanding Service Landscape Across Academic Libraries.
Straumsheim, C. (2017). Arizona State University Library reorganization plan moves ahead.
Webster, K. (2017). Reimagining the role of the library in the digital age: changing the use of space and navigating the information landscape.
Fister, B. (2017). The boundaries of 'information in information literacy.
Young, S. (2017). Participatory designs in action | The user experience.
Things to View
Things to Explore
Image Credit