Use the status update box to share updates with the class. It's similar to Twitter or Facebook. You'll find it on the Activity page and on your profile page. You can also post directly to the tribes via that box and pull down.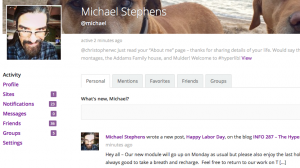 You can also use a classmate's @username to direct a message to them. Give it a try!
And don't miss all the functionality in the upper right hand side of your browser window. Click on Howdy… and you'll see menu options galore. Feel free to experiment and play with these features.