Last time, I wrote about our disparate group of presenters coming together to blend three session proposals focused on the power of stories into one 90 minute workshop at this year's Next Library Conference in Aarhus, Denmark. Joining myself, Kylie Carlson and Felicity Macchion, from Yarra Libraries in Australia, was Jason Evans Groth, Digital Media Librarian at NCSU Libraries. His proposal came with yet another twist: it was focused on telling stories with podcasting.
Kylie Carlson, Jason Evans Groth, Felicity Macchion, and Michael Stephens presenting "The Power of Stories"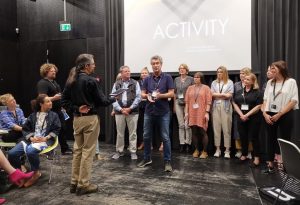 As detailed last time, our session at Next explored how to use narrative inquiry to better understand community needs, how to adapt story-based programming and services to accommodate children with neuro-diverse disabilities, and how to gather stories with simple, on-the-go, recording methods to create powerful artifacts. In the thick of the session, however, our allotted time flew by and Evans Groth knew exactly how to adapt. Here's the rest of the story.
My Favorite Podcast
Many of us are carrying recording studios around with us in our pockets and bags in the form of smartphones and tablets," Evans Groth told me. "We can, if we choose to, turn any space into a temporary recording studio. Recognizing this can do some powerful things for us."
These days it seems everyone has a podcast or two they recommend. Evans Groth detailed the benefits of embracing this ultra popular medium in libraries as background on his session proposal.
If librarians practice using these technologies, they are empowered with the ability to take what might otherwise be ephemeral happenings and package them as stories which can easily be shared. It also helps to demystify the process of media making and illustrate how ubiquitous and easy-to-use this technology can be for the purpose of thoughtfully sharing stories.
More importantly, the tool allows us to raise all voices up. Evans Groth said: "If we help our patrons and our colleagues to share our library stories, we build and fortify a culture of accessibility and inclusion by making accessible the many stories that come out of our libraries."
Pod Save Us
Evans Groth's original proposal was a hands on how to record a podcast session. In an early Zoom meeting, Evans Groth realized "my session counterparts had something going for them that my initial proposal did not have: an emphasis on technology-free story-sharing and a more easy-to-see human focus." There are many moments when the thought of using technology can create tension in a workshop, probably causing some folks to not be as interactive as they'd like to be. In a practice run at Dokk1 in Aarhus, further realization came: "Hearing the frameworks which we would provide to get our session attendees interacting made me think, immediately, that I did not want to get in the way with tech, even easy-to-use tech. Rather, my role would probably be more valuable if I used technology to quietly and accurately make the session go better and capture it to tell its story later."
Evans Groth outfitted his co-presenters with iPads as recording devices and we caught the in-action thoughts of our attendees. When it was his turn to talk, Evans Groth pivoted from a technical step by step to a pep-talk, "telling our attendees how moved I was by the work they did in the session and by how lucky I felt to be involved in something so meaningful." And then he enthusiastically hit the major talking points as concluding words for our audience: we should embrace the power of tech to tell stories, and podcasts are just sound files made by people just like them. The difference is that we are always thoughtful and passionate about stories.
Stuff You Should Know
Evans Groth's take-away is one that we can all take to heart. It's important to be open to the unknown, but it's also important to document – and share – what happens when we are open to the unknown. Evans Groth is doing just that. He is assembling all the recordings into a podcast that will soon be available for everyone to hear. He said: "I'm flattered that so many participants thought what we did mattered and that I got to work with such great colleagues, and I feel privileged to still be hearing their voices as I put this lasting document together."
My take away from this challenging endeavor? Story-based experiences of all kinds can increase listeners' understanding of diverse groups, demonstrate the value of everyone's experience, and remind listeners of their shared humanity.
Links for the online version:
"Coming to you live from the planet Saturn…": An old cassette, a ham radio hound, and a Digital Media Librarian bring the lost voice of the Voyager spacecraft to life
https://www.lib.ncsu.edu/stories/coming-you-live-planet-saturn-old-cassette-ham-radio-hound-and-digital-media-librarian