Description
"We shape our own future, but we cannot do that if we sit back and simply watch. The library that is flexible, listens to its community, and changes to meet changing demand and demographics will be the library that succeeds, prospers, and pushes its mission out to the most citizens" (Casey & Savastinuk, 2007).
How will new and established technologies further impact library service? What should librarians make of virtual assistants, smart homes, artificial intelligence, and more? This module explores the changing information landscape and offers a chance to see what academics and librarians see on the horizon.
Lecture Recording
Things to Read (Pick & Choose What Interests You)
Hadzilacos, R. (2020). How to harness the top 10 emerging tech of 2020 for good.
The science and technology correspondents of the Economist. (2021). What next 22 emerging technologies to watch in 2022 The Economist
Anderson, J., Rainie, L., & Vogels, E. (2021). Experts say the "new normal" in 2025 will be far more tech-driven, presenting more big challenges.
Stephens, M. (2019). "Flash Briefing" in Wholehearted Librarianship, p. 87
Griffey, J. (2019). AI and machine learning.
Hadzilacos, R. (2020). How to harness the top 10 emerging tech of 2020 for good.
Terdiman, D. (2018). Here's How People Say Google Home and Alexa Impact Their Lives
Halliday, A. (2015). The Prado Museum Creates the First Art Exhibition for the Visually Impaired, Using 3D Printing.
International Federation of Library Associations (IFLA) (2016). IFLA Trends Report.
McShane, M. (2018). Is Virtual Reality the Future of Field Trips?
Paraschiv, P. (2017). Creating a voice for the library: storytelling, experience, and play.
Things to View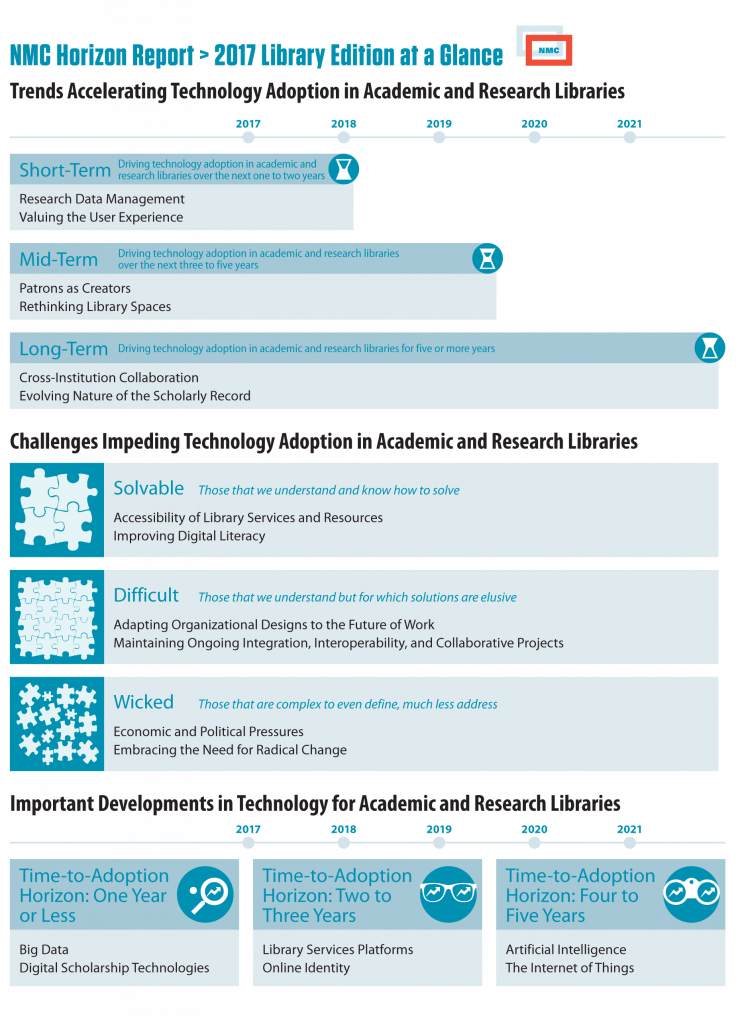 Things to Explore