Plan
Goals/Objectives for Service: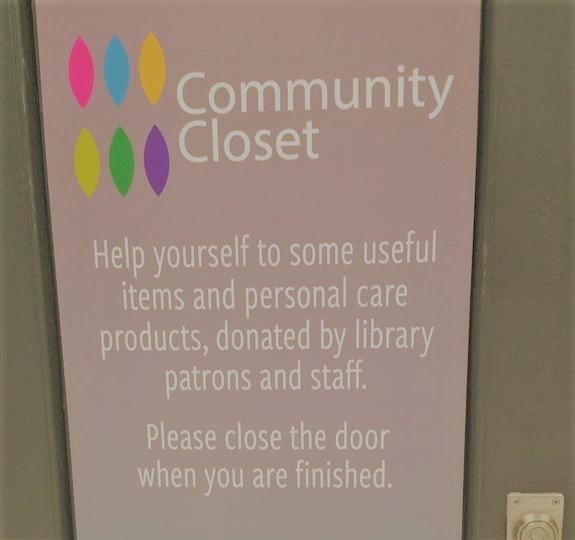 I took my inspiration from the Capital Area District Libraries (CADL) Community Closet. Denver has a large homeless and low income population and this service would be greatly impactful. There were roughly 30,000 people who experienced homelessness between July 2019 and June 2020 in Denver and the surrounding counties (MDHI, 2020). While the Denver Public Libraries has an extensive list of assistant programs there is no permanent area focused on helping those in need at the library. Therefore, I am proposing a community closet filled with daily necessities (e.g. tooth brushes, tooth paste, soap, shampoo, dry goods, femine products, etc.) available to anyone who enters the library. The supplies will be gathered through donations of staff and patrons.
Description of Community you wish to engage:
The community I want to engage are the homeless and low income visitors that use the library mostly for personal hygiene and shelter. Along with these supplies a list of shelters, food banks, and other health resources will be placed in the closet for anyone to take and use. These visitors do not fully engage in the library's services and collections because their basic needs are not being met.
Action Brief Statement: (Fill in the blanks):
Convince patrons that by providing daily necessities they will be welcome to the library which will increase their use of library resources because they feel safe.
Evidence and Resources to support Service: (URLS, articles to help guide you)
Alman, S. W. (2018). Communication, Marketing, and Outreach Strategies. In S. Hirsh (Ed.), Information services today: An introduction (2nd ed.) (pp. 331-342). Lanham, Maryland: Rowman & Littlefield.
American Library Association. (2010). B.8.10 Addressing Poverty, Economic Inequality, and the Responsibilities of Libraries. ALA Policy Manual. https://www.ala.org/aboutala/governance/policymanual/updatedpolicymanual/section2/52libsvcsandrespon
American Library Association. (2019). Libraries Respond: Services to Poor and Homeless People. https://www.ala.org/advocacy/diversity/librariesrespond/services-poor-homeless
A Precious Child. (2021). About. https://apreciouschild.org/who-we-are/about-us/
Capital Area District Libraries. (2021). CADL Cares. https://www.cadl.org/about/who-what-why/community-partnerships
Doherty, M. (2018). CADL Cares supports the community. Lansing State Journal. https://www.lansingstatejournal.com/story/opinion/contributors/viewpoints/2018/12/07/viewpoint-cadl-cares-initiative-sponsors-community-closet/2225521002/
Ellicottville Central Schools. (n.d.) ECS caring closet. https://www.ellicottvillecentral.com/domain/232
Klinenberg, E. (2018). Libraries and Social Infrastructure. Library Journal. https://www.libraryjournal.com/?detailStory=181003-Eric-Klinenberg-QA
Metro Denver Homeless Initiative. (2020). State of Homelessness. https://d3n8a8pro7vhmx.cloudfront.net/mdhi/pages/2652/attachments/original/1602515777/StateofHomelessness_Final.pdf?1602515777
Twitter. (2018). CapAreaDistLibraries. https://twitter.com/cadl/status/1059542153456746499
Mission:
To provide everyone basic human needs to further support their thriving.
Guidelines:
User's privacy will be maintained at all times.
Only one person in the closet at a time.
Anyone can access the closet during open hours.
The resource staff on duty will maintain the cleanliness and organization of the closet.
Only unopened hygiene products and gently used outwear will be accepted.
Policy:
The head librarian, outreach coordinator, and management will be responsible for creating and maintaining the policies around the community closet. The ALA Policy Manual Section B.8.10 Services and Responsibilities of Libraries (2010) stresses the importance of removing any barriers disadvantaged peoples face in accessing the library. In addition to the ALA Policy Manual, CADL's community closet provides an example of a policy to follow. They collected donations in bins in the lobby and then placed the acceptable items in the closet (2018). Other non-profit clothes and pantry drives can provide a framework to organize human centered programs. A Precious Child upholds the values of respect, empower, and inspire through their many programs that enable low income people to access supplies (2021).
Briefly outline how your service's grant, allocated funding, budget, available free-space, etc. will be distributed:
This service would be cost free to the library once the space is constructed and designated for the closet or cupboard. Since it relies on donations from patrons and staff promotional material will be necessary to promote the new service. Bins to collect the donations will be located at each entrance. I would place the closet off of the lobby to provide some privacy as well as easy access and monitoring from the staff present. One of the resource staff would be assigned to the closet every day to monitor the activity and reorganize and restock when necessary. A closet would need to be converted or constructed for this purpose. One main concern is the prevalence of drug use and the misuse of the closet. I propose a frosted glass door to maintain some privacy while being easily monitored for misuse.
Action Steps & Timeline:
Draft a policy for the community closet detailing how donations are received, what donations are needed, who will be responsible for maintaining the closet, where the closet will be located, safety concerns for the closet.
Policy approved by the board of directors.
Construction on the closet.
Promotional materials for the community closet designed and distributed.
Donation bins placed by both entrances.
Once the closet is completed the donations will be placed in the closet and it will be open to the public.
Surplus donations will be stored nearby the closet.
Staffing Considerations for this Service:
The duty of maintaining and monitoring the closet will be added to the resource/reference staff duties. One staff member will be assigned to the closet per shift. Ideally the closet will be self sustaining and will require little to no maintenance.
Training for this Service: (Who gets trained? Who is the training instructor? Who designs the training? When can training be effectively scheduled?)
All resource staff will be trained on how to maintain and organize the closet as well as appropriate responses when there is a safety concern. The reference librarian, outreach coordinator, and security will provide training on all aspects of the closet. A list of appropriate people to contact in case of emergencies will be provided. Training will be scheduled before the closet is open and during a work day when the library is closed.
Promotion & Marketing for this Service:
Flyers will be produced and hung up throughout the library as well as all social media platforms. An op-ed in the newspaper will be printed to spread awareness to people who do not access social media. The library could partner with local schools, businesses, and social services to gather donations and promote the service. A mailout to residences within Denver county calling for donations and inviting individuals to use the closet will also promote engagement.
Evaluation:
At the end of the day, if the closet does not meet the needs of the library's users then it is not successful. To determine if the closet is successful an anonymous paper survey will be conducted to evaluate awareness and use, user's demographics, the products most wanted, changes that could be made, what other library services they used, and if patrons would continue to use the space. The activity of the closet will be monitored over a 3 month period to track foot traffic and in demand supplies. With this information the library can re-evaluate the supplies offered, placement of the closet, and marketing strategies.
As the program is monitored, edited, and improved the goal is to increase the wellbeing of patrons and their use of the other library resources. I envision individuals and families embracing the library as a home and refuge. Once this program is established I would like to see other outreach programs, such as, short term childcare or job placement be enacted to further support the surrounding community.