Greetings all! For interest and inspiration: Last September we had a visit here in Michigan from Geert van den Boogaard. He worked for many years at the DOK Library in Delft, Holland and travels around the US and Australia with the Shanachies. He is now at TU Delft. I told him I would highlight his projects with my class.
The goal of the Future Libraries Lab is to stimulate the conceptualization and realization of the public and academic libraries that are needed in tomorrow's world.
https://delftdesignlabs.org/future-libraries-lab/
https://www.tudelft.nl/io/delft-design-stories/collaborations-by-design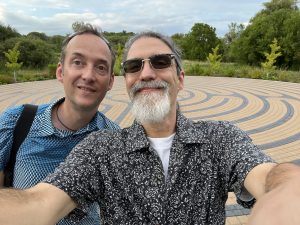 Images: Geert & I at the Grand Traverse Botanic Gardens & Geert at Sleeping Bear Dunes.