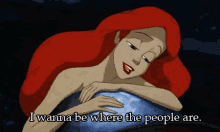 Ariel's got the right idea, except librarians need to find out where the people are before they can go there. Finding them online is the most important part, since the only way to get people even thinking about their local library is to remind them that it exists, and is worth a visit.
Facebook is what generally first comes to mind, but it's quite easy to start a Facebook page but another thing altogether to maintain it, find your audience, and keep them engaged. It's important to keep up to date with what the latest and most popular social media sites are, without jumping on board to every single new one that's created.
In "The Hyperlinked School Library: Engage, Explore, Celebrate" (Stephens, 2010), a sign was shown in a library that stated that the computers were for educational purposes only and games had been removed from them. The view of "what if people use things in a way we didn't intend" is one that tends to be closed-minded and does more harm than good. Instead of putting that sign up, they could have had some of the computers with games and some without if distraction were the issue — instead of the library's view of how they "should" be used.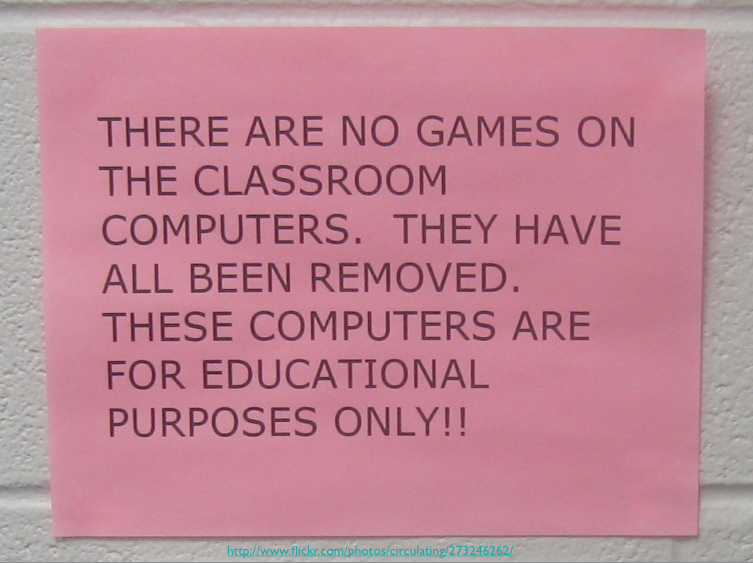 Firstly, the wording is very strict and, personally, makes me not even want to use the computers because, when you tell a young student something is for educational purposes, it makes it much less fun. And shouldn't the library be fun?
After all, the goal of the library is to encourage students to use it. If the students are on their own time (after school activities, free period, etc) then what they do in their own time doesn't have to be educational. The school librarians could have seen if they could set up a club or after school program for games on the computers, or find some way to keep the computer use fun without alienating students with wording.
This mindset reminds me of Young Justice, a DC animated show that was taken off of the air in 2013 despite being critically acclaimed and loved by the audience because their core demographic was actually females when they were aiming for mostly males. From an interview with Paul Dini, who worked on the show:
Dini goes on to mention how the Young Justice stories were much more teenager-oriented but the trend is to hit younger audiences with the newer shows. He said, "They're all for the boys, we do not want the girls! I mean, I've heard executives say this, you know, not where I am but at other places, saying like, 'We do not want girls watching these shows." When Smith pointed out that was a strange move because, well, women are 51% of the population, Dini said, "They don't buy toys. The girls buy different toys."

Pantozzi, Jill. "Warner Bros. Animation Takes Issue With Girls Watching Their Programs." The Mary Sue, 20 Dec. 2013, https://www.themarysue.com/warner-bros-animation-girl-market/.
Thankfully, six years later (in 2019), Young Justice was brought back because:
The affection that fans have had for Young Justice, and their rallying cry for more episodes, has always resonated with us. We are excited to bring the show back for this loyal fanbase and to provide an opportunity for new viewers to discover this excellent series.

Cecchini, Mike. "Young Justice Season 3 Release Date, Trailers, Episodes, and News." Den of Geek, 10 May 2019, https://www.denofgeek.com/us/tv/young-justice/259858/young-justice-season-3-trailer-release-date-news.
What does any of this even have to do with libraries? Well, I tend to learn and teach with real-world examples and stories, so that's part of it. However, the underlying message is the same: instead of excluding people when they do something with a program that you didn't intend for them to do (unless, of course, it's destructive), then it's best to stop and consider how the way that the people are using the program.
Is it expanding its original use? Is it helping reach more people? In what ways can we study our users and see if their needs expand far beyond what we have offered, and are they just using what tools they have to fit their needs? In the end, it's important to assess why the patrons are using a tool in a different way, and how we can meet their ever-evolving needs in the best, most engaging way possible.
-Alice
References:
Stephens, Michael. "The Hyperlinked School Library: Engage, Explore, Celebrate." Tame The Web, 2 March 2010, tametheweb.com/2010/03/02/the-hyperlinked-school-library-engage-explore-celebrate/. Accessed 5 Sept. 2019.
‌