Reflection on Hyperlinked Library/Participatory Culture
I really enjoyed this week's " choose your own adventure" and decided to spend time finding out more about the Hyperlinked Public Library. It's nice to know that the Hyperlinked Public Library is not a theoretical concept in our readings, and it's nice to see real examples. For starters, the Dokk1 Library in Aarhus, Denmark got it right on so many levels! I felt inspired watching the video of the new branch.
Image Credit: Dokk1 Library in Aarhaus, Denmark
I have always been interested in library design and was pretty much mortified when I found out the teens at our branch weren't consulted in a redesign of the teen space. Luckily, I had just finished reading the foundational readings and was able to make a persuasive argument in order to include the youth input into furniture selection. The role of the library is definitely not the same anymore and this means that spaces need to be more flexible and multipurposed.  For teens, this may mean a place to do homework while also serving as a place to socialize with classmates and friends.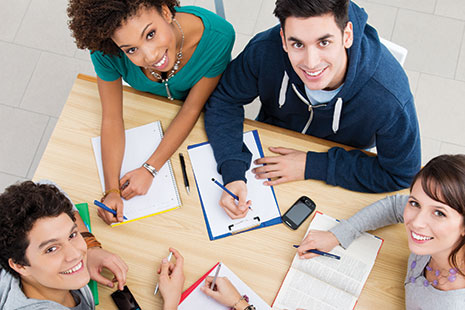 What I liked the most about the four space model was the overlap that went on between the spaces. I also appreciated that the four spaces weren't just physical spaces, but that the possibilities existed into the cyberworld as well.
Reading about the achievements of the Edmonton Public Library ( EPL) was fascinating. I only learned through reading the article that EPL was the first public library to offer its patrons bookmobile service by using a converted streetcar. Talk about thinking like a start-up!! I also learned that EPL was the first system to hire an Aboriginal Services Librarian. I know that many university libraries and other public libraries have followed suit, and this is a step in the right direction. Despite the number of physical branches,  it was  quite evident that the EPL had many aspects of the hyperlinked library model.
I too have made progress at my branch in terms of " thinking like a start-up" and ensuring our programs are more and inclusive. So here's a story. One day a group of teenage girls approached me and asked me for a pencil sharpener. After searching the very cluttered desk, I realized we didn't have one so I offered to take the pencils so that I could sharpen the pencils for them in the back. When I got to the back, I realize they weren't writing pencils, but rather eyebrow and lipstick pencils. So unfortunately our pencil sharpener couldn't accept some of the widths of the pencils, but it got me thinking about what kind of programming our teens could engage in and voila, we ended up hosting a Teen Beauty Workshop which was highly attended, only because I tuned into all the giggling about these makeup pencils!
My constant challenge to myself to " think like a start-up" has allowed me to come up with new programs for the branch. The other day, I was conducting a reference interview with a teen, who was seeking parenting resources, and when I encouraged them to attend my Friday morning baby time, I was told that it isn't easy for a teenager to show up to a Baby Time program without being judged and so I am planning to conduct a second Baby time/Family Time program for teens, and include some contemporary music with a bit of a literary twist to engage the teens, i.e. ( if you like it you should put a bib on it)
Image Credit: Springdale Public Library
I have also decided to eventually create an event for our patrons and have them tell us what programs and services they'd like to see more of! This is just my way of reaching all users, including non users, which is what every single library should strive for as much as possible!
References:
Laerkes, J.G. (2016).The four spaces of the public library.
Berry III, J. (2014).2014 Gale/LJ Library of the Year: Edmonton Public Library, Transformed by Teamwork.
---
3 Responses to "Reflection on Hyperlinked Library/Participatory Culture"