Category Archives:
Uncategorized
As I was researching potential topics for the upcoming Director's Brief assignment, and concurrently trying to understand Competency O and what it encompasses, I stumbled across a lot of really interesting participatory programs and services offered in different countries around the world. I wanted to take a moment to reflect on what I've learned about international librarianship and how it's being practiced to engage global patrons.
Competency O: Identify ways in which information professionals can contribute to the cultural, economic, educational, and social well-being of our global communities
I had a hard time wrapping my head around the idea of Competency O. For example, if a library provides Internet access and social media classes to a patron who goes on to be a vocal activist about the Syrian conflict, does that count as "contributing" to our global community? If we help to prepare patrons to be global citizens, we're technically (though indirectly) influencing the world. What about simply looking at the way libraries outside of the United States serve their communities? Is that an example of a library helping their local community or our global community?
I grappled with these (and other) questions until I happened upon a short article in the SJSU SLIS Student Research Journal written by Melanie Sellar, the Librarian Without Borders executive co-director and the professor behind the International Librarianship (IL) course here at San Jose State. She was also the SJSU SLA Student Chapter's guest speaker on competency O this past October. In her article, Sellar's preferred conceptualization of the term "international librarianship" derives from J. Stephen Parker's 1974 definition of it:
International librarianship consists of activities carried out among or between governmental or non-governmental institutions, organizations, groups or individuals of two or more nations, to promote, establish, develop, maintain and evaluate library, documentation and allied services, and librarianship and the library profession generally, in any part of the world. (As cited in Sellar, 2016, emphasis in original)
In explaining this definition, Sellar makes a second excellent point about checking, identifying, and correcting the inherent biases we all have when considering international librarianship. For example, in the United States and in the LIS literature in general, the definition of "international" seems to mean everywhere else but here. We must remember that we too are part of the global community. Bordonaro and Rauchmann (2015) bring up another salient point in their study of the differences in internationalization of academic libraries in North America (United States and Canada) and Germany. The authors conclude that, "internationalization manifests itself differently in different settings, and…it is important to study internationalization beyond the boundaries of North America…In Europe, specifically, different linguistic and geographical realities should inform our understanding of how internationalization is perceived and practiced" (Bordonaro & Rauchmann, 2015, p. 693).
Honestly, that's a lot of criteria to meet and I was hard-pressed to find examples that met all these points perfectly. But it did give me a better sense of the what Competency O was looking for, as did the rest of Sellar's article. According to Sellar, neither scenario I brought up above concerning the hypothetical activist or "other-study" (as it's termed in the article) would be particularly good evidence for Competency O. The first scenario isn't ambitious enough, and the second fails to include the elements of international reciprocity and advancement of the LIS field. In searching for other examples similar to the 23 mobile things that I settled on for the topic of my Director's brief, I found the following examples that had the added bonus of incorporating elements of participatory service that we've learned about throughout the semester. I thought I'd record them for posterity and share them with you all, both to crowdsource your thoughts on my understanding of Competency O, and to hopefully help others who were similarly confused by this particular comptency. These are examples of libraries impacting the social, cultural, and educational aspects of their global communities (plus a few bonus examples of services I just thought were cool).
Cultural
The International Federation of Library Associations and Institutions (IFLA) released a document titled Responding! Public Libraries and Refugees in order to provide "shared experience and inspiration" (IFLA, 2017) to other libraries considering services of their own. A similar list of library services and programs for refugees is shared on the European Bureau of Library, Information and Documentation Associations (EBLIDA) website. Both lists contain program and service examples, templates, best practices, and shared resources (like flyers, handouts, presentations, etc.) that can be altered and used in different countries. Many of these programs center around learning a new language; providing materials to refugees in their native language; planning activities to help them learn about their new adopted culture and make new connections with people in the area; and helping to fill out necessary forms and connecting refugees to other governmental entities or NGOs. My favorite of the participatory programs that were mentioned was:
Chat n Chill
Recently short-listed for the Libraries Change Lives Award, this Ipswich Library program in the UK brings together women from diverse backgrounds, many of whom are refugees, to learn skills that will allow them to better thrive in their new surroundings. The women meet new friends, learn conversational English, and get practice doing every day tasks like, "banking, reading a utility bill, and visiting the doctor" (The Chartered Institute of Library and Information Professionals, 2017). Librarians gently guide and facilitate conversations and teach necessary soft and hard skills to participants. It's not just a one-way street though – participants of Chat n Chill help promote diversity in the local community by assisting in organizing multicultural events showcasing food, performances, art, fashion, etc. from different cultures. In this way, the library helps to shape its community, and its community similarly helps to shape the library.
Economic
The Jagodina Public Library's AgroLib Ja in Serbia has become one of the most successful agricultural libraries in the world. Jagodina is a rural municipality that relies heavily on agriculture to drive its economy. Unfortunately, lack of "systematic support and investment agriculture by the state" (Tanasijevic, 2014, p. 5) in the region led to a long period of economic decline in the rural Jagodina villages. This prompted the Jagodina Public Library to find out how to aid the farmers in their communities via a survey. The results of that survey led to the library organizing agriculture lectures from experts in the field; providing classes on how to use ICTs to advertise, apply for government assistance, and seek out agricultural information; providing access to agricultural literature via a brand new, up-to-date print and digital collection; allowing farmers to convene and share best practices and techniques in regards to their farms; and most impressive of all, creating an online market for farmers to "freely advertise their products, sell…via the Internet without intermediates" (Tanasijevic, 2014, p. 8).
This is one of my favorite examples of participatory service, libraries helping their communities, and international librarianship. Of all the examples I discuss in this post, I think this one most closely captures the spirit of contextual librarianship as discussed in Schmidt (2014). In surveying its user base and identifying user needs, Jagodina Public Library (JPL) was able to "learn about the individuals in [their] areas and then design contextually appropriate programs and services" (Schmidt, 2014). An online marketplace wouldn't be appropriate elsewhere, like Schmidt's example of showers in a Utah library, but it was certainly appropriate for a community largely made up of disenfranchised farmers. JPL was committed to learning about, investing in, and meeting the needs of their "most valuable members" (Pewhairangi, 2014, p. 8), and this is what led to its success.
The library's model did such a wonderful job bringing together the farming community in Jagodina and revitalizing the local economy that libraries from other countries reached out to learn how to replicate their success. Case in point, the library wrote about a visit from representatives of the National and University Library Goce Delcev of the Republic of Macedonia. The two libraries spoke about "the AgroLib project implementation, practical advice on how to reach vulnerable groups such as farmers" during the visit, and the representatives from Macedonia were "able to talk to the library visitors and Agrolib marketplace users about the activities and services that the village libraries provide in order to meet the needs of rural residents" (Jagodina Public Library, 2016). Other programs modeled on AgroLib Ja were also started in Lithuania and Latvia and "successfully adapted to their cultural environment and socio-economic conditions" (Tanasijevic, 2014). The international collaboration to share ideas, best practices, and tailor each new program to each country's context reminds me a lot of 21 mobile things. I think it's a great example of how libraries can inspire and help each other.
Bonus service:
This service has more of a local impact, but I thought it was innovative, and certainly helped to revitalize business for local bookstores. The Inner Mongolia Library takes patron-driven acquisition to another level by partnering with local bookstores. Patrons can walk into a bookstore, grab a book and leave without paying, then return the book to their library who will pay for the item and add it to its collection. Patrons can also trade books with other patrons via a mobile app. So far, the program seems to be a success, with "100% circulation rate for books newly acquired through the project" and increased library visits and cardholders ("International Library Innovators", 2016).
Educational
The Center for Reading and Cultural Activities (CLAC) in Yaoundé, Cameroon is a bookmobile developed in concert with Libraries Without Borders (LWB). Much like the Biblioburro to which we were introduced in Module 5, CLAC seeks to increase its reach to its user base (potential as well as regulars) via a mobile library and computer lab. CLAC contains "at least 2000 books and a real portable multimedia center consisting of tablets and computers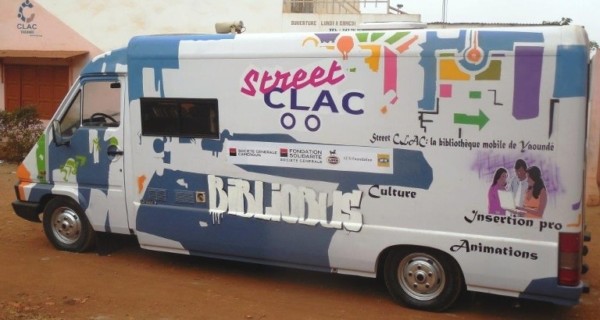 connected to the Internet as well as a video projector and a screen, to project films and documentaries" (CLAC Yaounde, n.d.). CLAC travels to a specific location every day and allows users to access the Internet, offers job workshops and classes on  topics including "dealing with health issues, the environment, and access to legal counsel" (Libraries Without Borders, 2017). Recently, the bookmobile also started a new entrepreneurship program for young people. Youth attend workshops led by business experts for 6 months, and at the end of that time period, five of the participants will be chosen to receive a personal coach who will counsel them through the process of starting their own companies (Librarians Without Borders, 2017). The library connects two groups of people (expert businessmen and who may never have met otherwise, helping to build mutually beneficial relationships via mentorship and encourage collaboration on a real-life product. Overall, the sharing of knowledge between the information professionals and librarians associated with Libraries Without Borders and the librarians at CLAC resulted in a service that successfully addresses the unique needs and particularities of this Cameroonian community.
Social
Read Watch Play is an online reading group with monthly themes that encourages reading of all types and friendly discussion through social media. It was originally started by the New South Wales Readers' Advisory (NSWRA) group consisting of Australian public librarians, and is modeled after a virtual book club collaboration between three Swedish public libraries (Brynge, Case, Green, Forsyth, & Holke, 2014). Since its inception in 2013, the NSWRA has partnered on-and-off with several libraries and library groups internationally, including the Public Libraries of Singapore, Surrey Libraries in the UK, Guldborgsund Libraries in Denmark, and the Nelson Public Libraries in New Zealand (Read Watch Play, n.d.). They take turns suggesting themes and facilitating online conversation. The goal of the program is to connect readers across geographic regions via the Internet, and allow them to engage each other, build relationships over a shared experience, and learn from different perspectives. Read Watch Play has grown to encompass other platforms beyond Twitter so participants can discuss and interact in different ways through Pinterest, Tumblr, Instagram, blogging, and even web conferencing (Brynge et. al, 2014).
There are a few parallels between this example and what we've learned in this class this semester. First, the deft use of social media allows the library to "reach out to a public that will never have the opportunity to visit their buildings and who may never easily happen upon their websites" (Stephens, n.d.b). In fact, Brynge et. al (2014) mention in their presentation that one key target group for their virtual book club is "vulnerable adults" like "survivors of domestic abuse". This is because,
Some survivors are still in dangerous situations. Some, after periods of extreme stress, don't want to make a commitment to a regular activity. Those in refuge might have been moved away from their abuser in to an unfamiliar area. Most are fearful of new situations and people. During a reading group taster session for a group of survivors, the majority were keen to read and share the experience, but all felt that a physical reading group situation was impossible for them. Almost all participants were really excited at the prospect of joining in with an online discussion,
in an informal setting with chance to safely interact with other readers. (Brynge et. al, 2014)
Second, the set-up of the virtual book club also capitalizes on the growing importance of mobile technology in people's lives and essentially allows patrons to "[turn] 'me time' into a collaborative, participatory" event like the Instagram contest at North Carolina State University's James B. Hunt Library (Stephens, 2013). It ensures that the library continues to meet patrons where they are and reaffirms the importance of Web 2.0 and Social Media Tools training like 23 Mobile Things for library staff.
Third, the virtual book club encourages conversation and as Block says, "Communities are human systems given form by conversations that build relatedness" (as cited in Stephens, n.d.a). Therefore, by facilitating thoughtful discussions about literature, Read Watch Play is helping to build and strengthen the global community, and engender "productive discourse among neighbors" (Dixon, 2017), albeit on an international scale.
As for contributions to the library field as a whole, members of the Read Watch Play program insist that discussing and collaborating on virtual book clubs, "has enabled a sharing of expertise about different online reading groups and has helped develop new professional connections" and that, "It was clear from the meetings that international collaboration and building relationships over borders are of great importance to library development, not only in the sharing of ideas around the development of library services, but also the sharing of similar and differing cultural perspectives within the scope of reading and library services" (Brynge et. al, 2014).
Final thoughts
I've learned a lot in exploring all of the different ways libraries around the world serve their local and global communities. One of my biggest take-aways is that, even if a service is contextual (as it should be) to the library's environment and community, it can still be helpful to the larger international community if shared on a global stage, either informally online, formally at an IFLA conference, or via some other form of communication. Through sharing, we can help inspire others to think critically about their own communities and determine how a service can be tweaked to best fit the culture and needs of their users. We can broaden each other's perspectives on what libraries can do and how and widen the scope of our collective imagination.
There are many other benefits to international collaboration as well, some of which I've touched on above, such as building professional networks, developing cultural appreciation and sensitivity, and staff training. Others that I didn't get to, like resource sharing and developing global standards for library services, are certainly important as well. In any case, with the world being as interconnected as it is, I suspect that we in the LIS field will continue to discover and re-discover the many ways in which partnering with our global counterparts can bring library service as a whole to new heights.
References
Bordonaro, K. & Rauchmann, S. (2015). Internationalization in German academic libraries: Moving beyond North American perspectives. portal: Libraries and the Academy, 15(4), 677-697. Retrieved from http://www.dr.library.brocku.ca/bitstream/handle/10464/7318/Portal%20article%20-%20Internationalization%20in%20German%20Academic%20Libraries.pdf?sequence=1&isAllowed=y
Brynge, E., Case, H., Green, G., Forsyth, E., & Holke, U. (2014). There are no walls: Reading online across borders. Paper presented at the IFLA Public Libraries Satellite: Public Library Futures in a Global Digital World, Birmingham, UK. Retrieved from https://www.ifla.org/files/assets/public-libraries/publications/elisabet_brynge_holly_case_gary_green_ellen_forsyth_ulf_holke.pdf
The Chartered Institute of Library and Information Professionals. (2017, October 18). Libraries Change Lives 2017 shortlist. Retrieved from https://archive.cilip.org.uk/advocacy-awards/libraries-change-lives-award/libraries-change-lives-2017-shortlist
CLAC Yaounde. (n.d.). Street CLAC, the mobile media library. Retrieved from http://leclac.org/index.php/le-clac-de-yaounde/projets
Dixon, J.A. (2017, October 23). Convening community conversations | Programming. Retrieved from http://lj.libraryjournal.com/2017/10/library-services/convening-community-conversations-programming/#_
European Bureau of Library, Information and Documentation Associations. (n.d.). Public libraries in Europe welcome refugees. Retrieved from http://www.eblida.org/activities/public-libraries-in-europe-refugees.html
International Federation of Library Associations and Institutions. (2015, December). Responding! Public libraries and refugees. Retrieved from https://www.ifla.org/files/assets/public-libraries/publications/library-service-to-refugees.pdf
International Library Innovators. (2016, September 23). American Libraries. Retrieved from https://americanlibrariesmagazine.org/2016/09/23/international-library-innovators/
Jagodina Public Library. (2016, May 26). Stip librarians in a study visit to Jagodina [Blog post]. Retrieved from http://jagodinalibrary.blogspot.com/2016/05/stip-librarians-in-study-visit-to.html
Libraries Without Borders. (2017, April 6). 10 year anniversary for Cameroon's Center for Cultural Activities. Retrieved from https://www.librarieswithoutborders.org/10-year-anniversary-for-cameroons-center-for-cultural-activities/
Pewhairangi, S. (2014). A beautiful obsession. Weve, 7-10. Retrieved from http://287.hyperlib.sjsu.edu/wp-content/uploads/2014/06/WEVE_May_2014.pdf
Read Watch Play. (n.d.). Partners. Retrieved from https://readwatchplay.wordpress.com/partners/
Schmidt, A. (2014, May 6). Exploring context | The user experience. Retrieved from http://lj.libraryjournal.com/2014/05/opinion/aaron-schmidt/exploring-context-the-user-experience/#_
Sellar, M. (2016). Strategies for engaging in international librarianship: Misconceptions and opportunities. SLIS Student Research Journal, 6(1), 1-6. Retrieved from http://scholarworks.sjsu.edu/cgi/viewcontent.cgi?article=1251&context=slissrj
Stephens, M. (n.d.a). The hyperlinked library: Hyperlinked communities. Retrieved from https://sjsu-ischool.hosted.panopto.com/Panopto/Pages/Viewer.aspx?id=7ef87729-0d46-4628-94c6-508c5b995428
Stephens, M. (n.d.b). Serving the user when and where they are: Hyperlinked libraries. Retrieved from http://tametheweb.com/wp-content/uploads/2014/07/Stephens_ServingtheUser_HyperlinkedLibraries.pdf
Stephens, M. (2013). Mobile at the library | Office hours. Retrieved from http://lj.libraryjournal.com/2013/11/opinion/michael-stephens/mobile-at-the-library-office-hours/#_
Tanasijevic, S. (2014). Public library – the important link between rural libraries and successful farmers. Paper presented at the IFLA World Library and Information Congress: Libraries, Citizens, Societies: Confluence for Knowledge, Lyon, France. Retrieved from http://library.ifla.org/995/9/140-tanasijevic-en.pdf