Emerging Technology Planning:
As found in one study concerning, "Apps-based access to library materials and programs: 35% of Americans ages 16 and older would "very likely" use that service and another 28% say they would be "somewhat likely" to do so." BYOD (Bring Your
Own Device) sessions are increasing in popularity as shown in the 2016 Horizon Report. Studies have found that, "While BYOD policies have been shown to reduce overall technology spending, they are gaining traction more so because they reflect the contemporary lifestyle and way of working" (Horizon, p.  2016) BYOD programming in which the life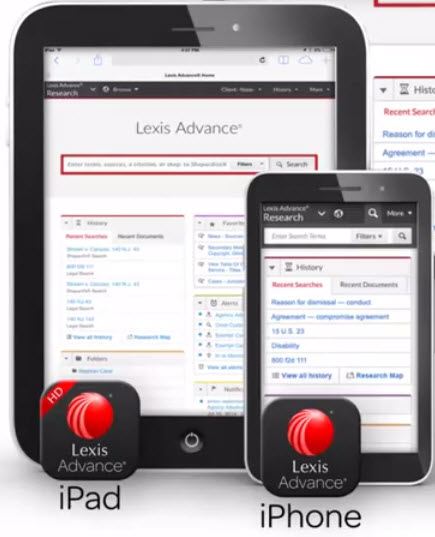 style and communication customs of the patron are considered are proving to be a new path forward for libraries. It can also be seen that, "This development is ultimately less about the devices and more about the content that can be loaded onto them; BYOD enables students and educators to leverage the tools that make them most efficient, including location-based services, social networks, and video streaming" (Horizon, 2016).
Goals:
The goal of this project is to launch a program in which the research librarians are able to teach students, at the beginning of each semester, about how they can now access legal databases on their mobile phones.
By encouraging students to utilize these technologies, the librarians are learning how the applications for these three, main, legal databases can revolutionize how and when students are conducting their research. HeinOnline, WestLaw, and Lexis Advance ar
e three massive legal databases that have an equally large price tag. Our library pays for these databases so that our students can have access to the most up to date legal information, however, sometimes students and professors are unfamiliar or unaware of all they have available through these databases. By integrating them into their phones, there is possibly a higher chance that students will start their researching in the database apps rather than just googling their query. The main objective of this project is to show patrons how to research in the apps, explore the interesting and helpful tools in each app, and to simultaneously create connections between the students and professors with the librarians.
Audience:
As stated previously, these databases are expensive. They are competitors in the legal research world, but all have something unique to offer. Due to the limited time that students will have access to all of these databases, it is important to teach them how to research in all three databases so that they are prepared for their future as legal researchers. Many law firms can only afford one of these legal databases, which makes knowing how to research in all three databases imperative and beneficial for their future endeavors. Student will not be the only ones benefiting from this training as professors will also be invited to learn how to integrate their researching onto their mobile phones. Professors tend to be the first ones to contact research librarians before they start their own cursory researching (meaning they depend heavily on the librarians to conduct research for them). By teaching them how to use these mobile apps to conduct research, it might empower them to start their research on their phones before contacting the research librarians for help. While it is always a good thing that the research librarians are still needed and utilized, it can be a bit overwhelming for them when they are trying to balance the research needs of both students and professors.
Lastly, due to the nature of this particular library, being a private law school, the audience for this program can only be law students and professors. Given the high cost of these databases, only law students enrolled and professors working at this law school will have access to these databases on their computers and mobile devices.
Action Brief Statement:
Convince law students and professors that by using legal research database phone apps they will be able to conduct their research from anywhere which will enhance their accessibility to information because not only are these databases expensive and often underused, they are amazing free resources!
Evidence and Resources:
This article was pretty helpful as it not only addresses emerging trends in technology for libraries, but specifically addresses the needs of academic libraries. Accessibility was one trend addressed in in this article that seemed relevant for this project. Jack Suess talks about an app called Access for All that saves settings across all programs and apps. Given that not all third party apps will work with certain smartphone settings, Suess argues that it's important for libraries to encourage vendors to adhere to the Access for All technologies so that their services allow for equal access to materials and information, which is the core of the purpose of libraries.
Many smartphones today allow for font sizes to be enlarged for those that may have visual impairments. These settings will often also apply to third party apps making searching in these apps easier for those that may have trouble seeing. Similarly voice to text capabilities for searching and taking notes within these apps make them easier to use and navigate through for those with varying barriers of accessibility. There are also many settings and applications available to smartphone users that can help those with hearing, physical/and or motor skill disabilities. Features like "Speak Screen" on the iPhone can also help a user hear what is written in an article on an app simply by saying the command to Siri. When it comes to accessibility, smartphone are increasing their technologies can capabilities every day, making their integration into library programming and services a tool to increase the libraries accessibility. This integration of technology and education about various tools available to those with accessibility issues make them a fantastic tool for libraries.
With attention given to integration mobile devices into library programming in general, Bryan Alexander writes, "growing use of mobile for off-campus work (home, community involvement, study abroad, research, etc.)…  possible realization that underserved populations use mobile more than the typical college audience; we could see more mobile-first design to meet that group." Due to the reality that research is occurring more and more outside of the library walls, such a program would draw students and professors into the library to teach them how to continue their research in a way that they might be more comfortable with. All of these legal database apps allow for proxy access which lessens the amount of logging in that professors and students would have to do while on campus or at home. Many people may have a smartphone or mobile device as their main tool for researching if the cost of a laptop is too high. For many students, this is often the case. By catering to these realities, libraries can work to meet their patrons where they are.
Again, Jack Suess says, "In focus groups we did with students in early 2015, we heard students ask us why our services aren't mobile-friendly when everything else is. We have to make the transition to a mobile-first strategy… I believe by providing compelling content and tools we will see more faculty accept mobile devices in their classroom." By providing this program for both professors and students, the goal is also to encourage professors to promote these apps once they become familiar and comfortable with the researching capabilities available.
Mission, Guidelines, and Policy:
The mission of this programming is to encourage users to integrate their legal research into their everyday life and to utilize these resources in the best way possible for their needs. By keeping this the main focus of this programming, in 5-10 years when technologies may have changed drastically, it allows for this programming to constantly be evaluated and measured against the needs of the users. Libraries can already see how often their databases are used, so it makes sense to track their usage statistics of these three legal databases to see whether or not this programming ups their usage statistics. If nothing changes, or worse, if their usage statistics go down, it might be time to not only deeply consider this programming but also the helpfulness of these legal databases.
As far as involvement for policies, it would be smart to seek the advice of all of the library staff, initially, given that they might offer different insights into what users might need from this program. The systems librarian could provide insight into how to integrate these apps into the OPAC as well as how to keep users connected from within and outside of the library walls. The collection development librarian knows the ins and outs of the services offered by each database and could help the research and instruction librarians uncover hidden resources within the databases. From there, I think letting the instruction librarians experiment with the apps before their programming begins and seeking the input of a few current student users is a great place to continue the development. Once the programming is over, as can be seen by numerous libraries experimenting with apps ( Launching Library Apps), evaluation is the key to keeping this program relevant and useful to users. Seeking and taking seriously the experiences and reflections from the first group of attendees will allow for the program to grow and transform as technology and the needs of patrons evolve. Hopefully, these apps will also change over time. Staying up to date with need tools and capabilities within these apps can allow for a program like this one to stay helpful.
Funding Considerations for this Technology or Service: 
Considering that these databases are already being paid for from the library budget and downloading the apps is free, the only costs associated with this programming would be advertising, staff time, and snacks. Advertising would not take up too much money due to the resources available to the library through the university. Posters can be made with minimal money from the library budget, email blasts to students and online newsletters are virtually free (minus the staff time it takes to create them), and reserving space and technology (a computer and projector for presenting the information, chairs, tables, etc) can all be arranged for free through the university. One thing I have learned by working with law students is that the best way to draw them in is to advertise free food. It sounds cliche, but telling someone there will be free pizza at an event is almost a sure fire way to draw them into the room. Given that there a are around 300 students at this law school, only 100 of which are new law students, and classrooms can hold a maximum of 75 students, these sessions will need pizza for $75 students. By ordering through on campus catering, a pizza costs about $15 and has 8 slices. If each student gets 2 slices of pizza, (150 slices needed) 18.75 (call if 19) pizzas are needed. Therefore, $285 is needed for pizza. By allotting $15 for napkins and plates, a total of $300 is needed for food. (Pizza math is my favorite kind of math!)
So, as long as there is built in time for staff and librarians to work on this project, this is a relatively low budget programming initiative. This program is also a low cost way to gauge whether or not a custom built library app would be worth the time and cost needed to build. Before jumping into such an endeavor, that, by the time it is created could be irrelevant or go unused, a program in which we track and examine how third party apps are used with library services provides a great opportunity to make this decision.   
Action Steps & Timeline:
I think the timeline for this project can be relatively quick considering most of the work needs to be done on the library end. Explore these apps and the best ways to use them as well as fun features they offer is going to be the most time consuming part. This could definitely be a summer project, given that summer school is not as popular in law school as it may be in other academic settings, starting with the research and development stage happening right after school ends in May. Taking June as the time to explore what resources professors are assigning, projects they have coming up for the semester, and what they want to see students to be able to do is a good jumping off place. From there, the librarians can decide how to best meet the needs of the professors. They can also see what research needs the professors have for their own research.
Next, I think developing a presentation or video that explains how these apps work is a good step forward in developing the program. Once that presentation is done and rehearsed, it is time to get advertising materials created and organized. Having this program occur at the beginning of each semester, possibly during orientation, give students the chance to learn about these tools before they might need them. Similarly, it introduces students to the law research librarians at the first chance they can meet. Advertising materials could include fliers that can be posted around campus, postcard sized descriptions of the apps to be placed in orientation packets, and emails with hyperlinks to guides and videos that could be helpful (see below). Also- it is key to have the time, date, and free pizza details included on each of these pieces of advertisement! While we want to avoid bombarding them with too much information, this is a key time to hook them into the library and get them talking with fellow students as well as the research librarians. The key players in this programming are the research librarians. Ensuring that they have the time and energy to implement such a program, given their hefty schedules, is imperative for this program's success. A timeline of three months, possibly less, to research and design this program is necessary.
After the programming is over, a survey should be sent out to attendees to see how they thought the session went and to gain an insights into improvements that can be made for future sessions. This survey can be put together before the program is offered, in the summer when the librarians have a lighter load due to students and professors taking vacations and classes being suspended. Two months after the programming, it would be wise to start to monitor the usage statistics of the databases to see if the programming helped improve usage of each database. By evaluating now, tweaks can be made to the program before spring orientation starts in the next year. This cycle can be repeated each semester with summer sessions reserved for major overhauls and changes to be made to the program if necessary.  
Videos:  
Guides: 
Staffing Considerations for this Technology or Service: (Is this a new service that requires staff? Where will staff (or other) hours come from? Brainstorm some creative, outside-the-box ideas for generating hours.)
This is a new service that will require some staff time from everyone. Everyone on staff will need to offer some sort of input into how the project should be run, the research librarians will need to create the project, and the director will need to approve the project. The administrative assistant will be in charge of ordering food, supplies, and the room/technology needed for the program. Given that the bulk of this planning will be done during the summer when the tasks of all of the library can be lessened, this is the perfect time to create this program without burning out staff or needed to generate extra time/money for staff. Summer project that evaluate all aspects of the library can be reduced, and one team can be assigned to craft this program rather than evaluating the physical collection or the WebPAC (two common summer committees at this library). To keep it fun, it could also be a good idea to reach out to other local law libraries that may have already integrated these apps into their library programming. In doing so, our staff could learn some new ideas for how to start this project or see if anyone from other libraries would be interested in designing the program with our library.
Training for this Technology or Service:  
I think all library staff should view the training programming before it is presented to students and faculty. In doing so, they might be able to offer feedback about strong and weak parts of the presentation. The research librarians will be charged with designing the training. Keep the program itself to only an hour (at max) allows for those training to stay alert and concentrated while also keeping the viewers only for a limited amount of time. Having these sessions take place around lunchtime, so students can refuel while learning about apps and using their phones allows for this program to be physically and mentally nourishing. If this session is occurring during the school year, this is also the time when there are breaks in classes, so more students and professors will be able to attend the sessions. By having all library staff trained, they can also help students when they need it. Often students will see a staff person and, while it may not be their area of expertise, they will ask them a question about research. By having each staff person trained, they can all get students going in the right direction and can also help connect them with others on staff that can assist them further.
Promotion & Marketing:
Along with internal school promotions, it think it would be a great idea to reach out to these vendors to see if they have more ideas, tools, or free stuff to give away to promote their services. Students love free stuff! Highlighters and sticky notes are two of the most coveted resources of many law students given that they help them with their researching. By having these tools imprinted with the WestLaw App or the HeinOnline App, they may be reminded of the tool each time they go to take notes in class or in their text book. Communicating with librarians outside of our institution will also allow us to market this program to eventually be used in other schools or open to more than just our students. Lawyers that need continuing education credits could be invited to learn about emerging technologies in the legal field that can help them do their job better by doing more efficient researching on their phones.  
References:
Accessibility features: http://www.apple.com/accessibility/iphone/learning-and-literacy/
Accessibility: http://www.apple.com/accessibility/iphone/learning-and-literacy/
Boyington, B. (2014).  https://www.usnews.com/education/best-graduate-schools/top-law-schools/articles/2014/03/19/11-apps-for-law-school-students
Horizon Report (2016): http://cdn.nmc.org/media/2016-nmc-horizon-report-he-EN.pdf
Kelly, R (2016). https://campustechnology.com/Articles/2016/01/13/9-Ed-Tech-Trends-to-Watch-in-2016.aspx?Page=1
Zickuhr, K., Rainie, L., & Purcell, K. (2013). Library Services in the Digital Age. Pew Internet & American Life Project. http://libraries.pewinternet.org/2013/01/22/library-services/